Marco Miehling Selfridges Installation
Sculptures
2019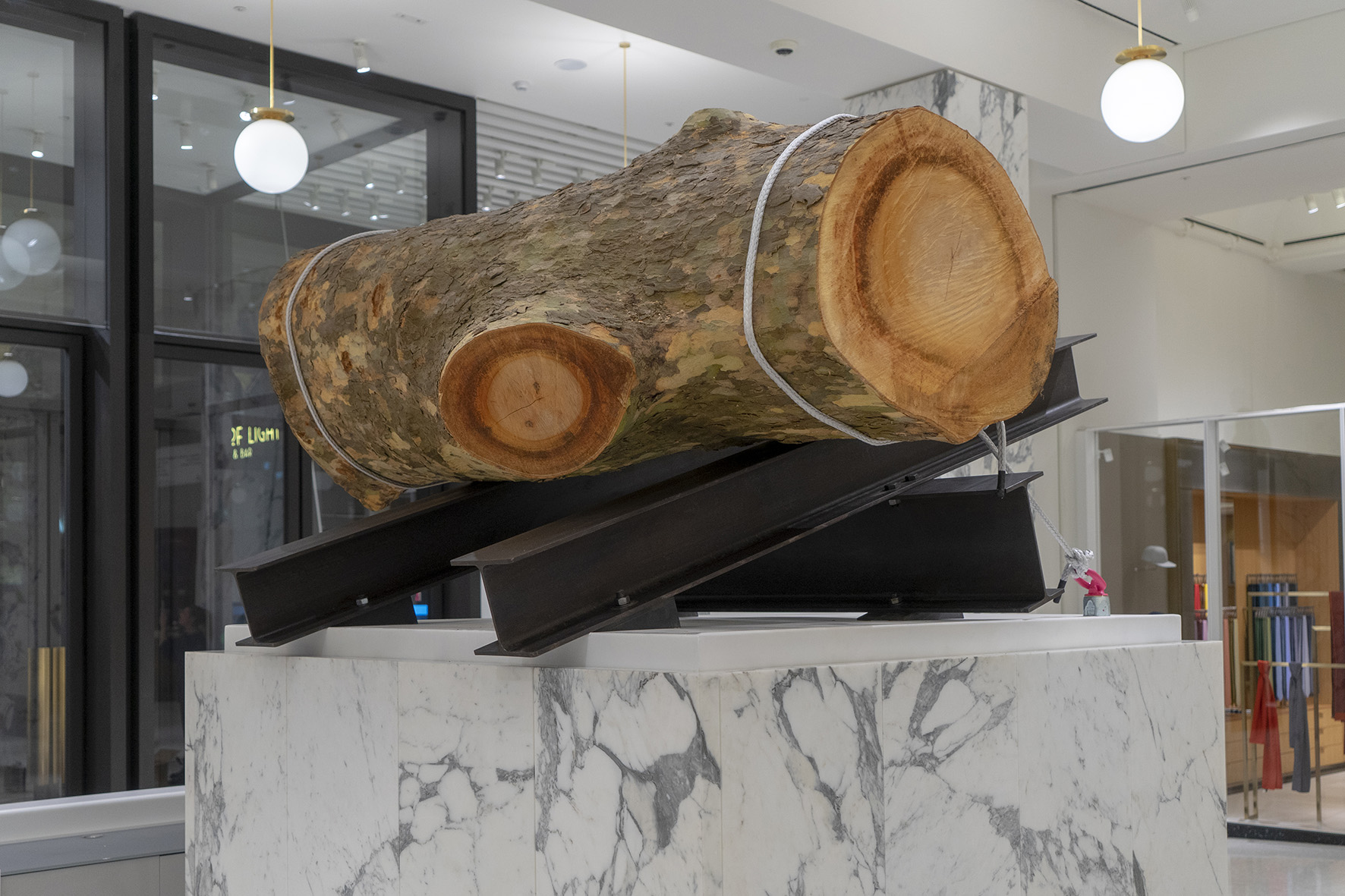 Design Studio provided advice to the artist Marco Miehling for a commission at Selfridges. Marco is a sculptor based in both London and Berlin and was introduced to Design Studio as a Bursary Award winner from the Royal Society of Sculptors. His work displays large visible forces and combines industrial and natural elements. Many of his pieces balance a sense of contemplation with a feeling of nervousness.

For the plinth at Selfridges Duke Street entrance, Design Studio worked closely with Marco to realise his work "A Tree Is A Big Plant With A Stick Up In The Middle". The sculpture suspends a large trunk, taken from a diseased tree in Hyde Park, on a steel ramp. The idea behind the piece is to convert a tree trunk from an object of nature to an object of contemplation. To maximise the drama and jeopardy of the piece (whilst ensuring the safety of the public and integrity of the plinth) we used iterative design processes to optimise the trunk weight, ramp angle and rope tension. We helped develop numerous concepts and contributed at every stage of the creative process.

In association with Marco Miehling
small., along with the support of WSP Design Studio, came up with an innovative shelter design that uses low cost, lightweight and sustainably sourced materials, namely discarded plastic bottles, bamboo and straw in a bid to tackle plastic pollution and provide emergency shelter to disaster-stricken communities in the light of the recent natural disasters.

WSP's Design Studio put together a proof-of-concept study to take Ricky's concept a step further. The challenges were great, housing needed to be readily portable but robust enough to protect its occupants from the elements, while being made from only bamboo and scavenged plastic bottles.

As part of the study, WSP's Design Studio tested several insulating materials, that could be placed inside each bottle, to improve the structure's thermal performance and discovered that straw would provide the best level of thermal comfort.

The team then proposed that these thermally efficient "bottle bricks" be mounted on a formwork of bamboo struts arranged in a triangular form to ensure optimum stability. The entire structure would then be anchored to the ground through a unique set of bottle foundations weighted down by soil and sand to provide a solid base. The resulting four-meter-high structure would be easy and quick to build, in this case less than one day.

After collecting 2,000 bottles we built our first prototype for the Clerkenwell Design Week in London in May, from the bottles, bamboo and straw. Since then the Royal Academy has selected our design for their Summer Exhibition, and we're incredibly proud to have a model of the shelter on display there.

In association with small.
Raynham Hall Pavilion
Structures, Sculptures
2019
This installation for Cosmic Roots Festival was intended to be an impactful and interactive piece which changed throughout the day to reflect the atmosphere of the festival. It takes inspiration from the designer's experience in Moscow and Russia at large, with references to some of the ad hoc temporary structures that can be seen on construction sites around the city.

The main challenges of this project came from the specification that it had to be a temporary structure which needed to be easy to construct, deconstruct and store for reconstruction the following year; that at night the sculpture was to be lit internally and that the external appearance of the structure couldn't differ from the original design meaning all supports and bracing had to be internal.

IG Lintels - Suburban Villa
Structures
2019
The competition was to design a sub-urban villa that included a variety of IG steel lintels which would be used in a creative way to develop a modern living arrangement.

We worked with Black architects to develop a home which would have no internal columns. This was to create a home which could change easily whilst the family occupying it also did. We produced a design that was effectively two separate homes joined by a centrally walkway which meant the building could be used as: a single family, a single family home with a flat within, two separate homes or divided into six individual flats.

We provided advice on the maximum spans a two-way spanning concrete slab could achieve and how the building would gain lateral stability without having any internal load-bearing walls.

In association with Black Architecture